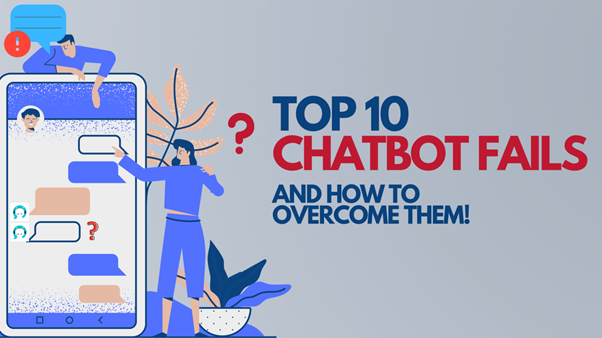 Enterprise AI adoption is shifting from "Digital Lipstick" to the deployment of Humanised AI use cases which truly helps in solving real-world problems.

Companies who deployed Chatbots as an easy way out to be part of the AI hype and say "We are digital too!" are looking at ways to enhance customer experience and increase digital adoption.
It's a well-known fact that Non-NLP / Non-AI chatbots cause more damage to the brand value by increasing customer frustration.
Generic NLP bots have low accuracy levels and don't have the benefit of context, thus the enterprise ends up with poor Customer Effort Score (CES)
How well equipped is your bot to meet the challenges of today? What is pulling it away from getting you the desired task completion rates and user outcomes?
Let's break down some of the key reasons why Chatbots fail and how you can equip your bot to delight your customers.
1. Sorry I don't understand
It's not uncommon that a chatbot doesn't understand a simple customer query or gets stuck during the interaction. A chatbot that relies on rules can only accept a limited number of inquiry types and only respond in limited ways. The reason for this is because most Non-AI chatbots follow a rule-based conversational flow which is easily broken and leads to a poorer than IVR customer experience.

Even with NLP bots, a generic knowledge base with no domain-specific ontology makes it impossible to understand the conversation context and respond accordingly.

Solution : Context is the king; Natural Language Processing enables the chatbot to understand the context of the customer query resulting in human-like interactions rather than robotic rigid flows. A domain ontology based bot with industry-specific customer journeys, product attributes, event hierarchy, and prediction logic for suggesting next actions can significantly enhance the customer experience.
2. Chatbot can't "code-switch" while humans do
NLP based multilingual chatbots do understand the context, but are you interacting with your customers in the language of their choice? Do you support code-switching i.e. mix of languages, dialects, vernacular et al?

Solution : Give your customers more than they want, not only the capability to choose the language but also use the mixture of different languages at their comfort- no restrictions here!. For example, if a customer who has chosen French as his preferred language and still uses English words the bot understands, gets the context, and responds.
3. Failing to be truly Omnichannel
Customer expectations in terms of digital interactions are beyond just websites and mobile apps. They want on-the-go interactions with no channel restrictions.

Solution : Offer your customers a true omnichannel experience with a seamless interface. Give them the flexibility to reach out to you on their favourite messenger apps like WhatsApp, Facebook, etc. A truly Omnichannel bot would enable the user to switch channels seamlessly.
4. Only Button based flows
With a typical button-based conversational flow, customers have reported inconvenience and frustrations. A button-based flow will only list down a set of options for the customers to choose from. This limits interaction to only a fixed set of responses and the bot will not be able to handle queries that are not listed resulting in customers abandoning the bot.

Solution : Offer a mixture of both buttons and guided chat flows. This way if a user wants to ask something that is not given as an option in the text format, the bot can guide him through the flow without going to fallback.
5. Inability to grasp slangs and dialects
Customers are used to using slangs, abbreviations, and common dialects while interacting with their friends and family digitally. Even an NLP based Chatbot will fail if it is not trained to identify and respond to different dialects within a conversation. If the bot cannot detect these in the user utterances it will not be able to respond correctly resulting in negative user experience.

Solution : Engage your customers with human-like interactions with a multilingual bot trained in local slangs and dialects.
6. Incomplete customer journey.
Redirecting the user away from the chat to a website results in incomplete customer journeys with the entire process becoming disengaging. Research suggests that today's customers prefer interacting with intelligent chatbots rather than IVRs or long-waiting times to speak to the call-center agent. But if the bot interface is not able to complete the transactions or resolve the queries to customers' satisfaction, it surely leaves the users with a bad experience.

Solution : Enhance your customer experience and increase CSAT score by offering self-serve solutions along with secure transactional interactions.
7. Multimedia barriers
Limiting a chatbot's exchange to only text narrows down its usage and the level of interactions that it can support.

Solution : Enable your bot to handle multimedia outputs and inputs across speech, images, and text including documents. This not only makes the customer interactions more flexible and engaging but can also widen the scope of the bot to include digital onboarding, eKYC, face recognition, and not just routine FAQs.
8. Limited Bot to agent hand-off Capabilities
As per the survey done on reasons for chatbot abandonment, 63% of abandoned users were concerned that chatbots couldn't handle complex issues. This is a concern even for business owners as it can have an adverse effect on customer retention.

Solution : Enabling frictionless bot to human hand-off. The AI-powered chatbot is enabled with routing the chat to the agent based on customer request, priority, and skill. This ensures quick issue resolution providing excellent customer service experience to the users.
9. Lower levels of accuracy
The success of enterprise chatbot is dependent on the accuracy level of the chatbots, The average industry accuracy level of the chatbot ranges from 60-70% only. This can lead to many unsatisfied and frustrated customers.

Solution : Domain-specific NLP models, not only improves the accuracy to a large extent but also helps in having meaningful & contextual conversations, resulting in enhanced CX and customer retention.
10. Lack of personalization
Customers need and ask for personalized experiences. The adoption and usage of chatbots is bound to improve if enterprises can shift from robotic interactions to human-like hyper-personalized ones.

Solution : Personalize every customer touchpoint based on individual customer persons created dynamically from the customer's behaviour, purchase patterns, demographic, clickstream, and many more factors.
While chatbots are definitely having their moment, it's important to understand that implementing one and walking away is simply not enough. It is assumed that once a chatbot is implemented the work is done and this is the biggest failure point. Before you take the step, set the goal, and ask yourself these questions:
What real problem am I addressing with the bot?
What value does it offer my customers?
How can I equip it to understand user intent better and make sure it's a success?
Having a chatbot to interact with your customers is not difficult today, but having a clear focus on why you want it and what KPIs you define it to achieve is necessary for it to hit the right mark and get you successful user stories.